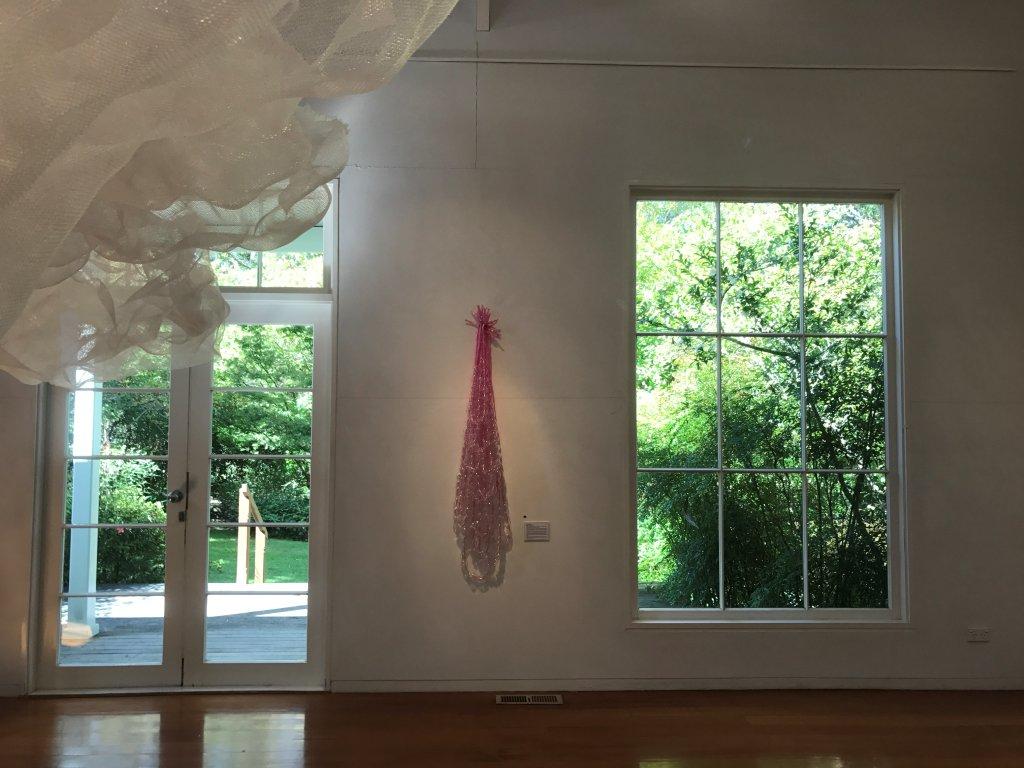 Gauge… a matter of moisture
Ephemeral - lasting a very short time; short-lived; transitory
Ethereal - light, airy, or tenuous
Materials - breath, air, thread, woven, mesh, heat, glass…
Creating an ethereal environment within the gallery that is pleasant, comforting and soft. The exhibition addresses the different experiences of water and rainfall, creating a collection of objects to express these matters of moisture which occur within our different lived environments.
Heavy Rain
Living in Singapore, surrounded by hard yet somehow transient objects/buildings, I desire a softer, gentler, floating, yet concurrently stable world of familiarity. I work with an open mesh fabric, stitched to create a soft ephemeral environment of cloud formations, floating with ethereal like clarity.
Juxtaposed with rain gauges, hollow glass beads and collected and/or created objects I present a variety of perspectives which detail fragility and the preciousness of the moment. The notion of measured maintenance is translated as a tenuous balance - constantly maintained.
Measured Collection
Water gauge collectors are evidence of measurement. Plastic bags measure a mouthful of water, the high tide of the laser-red horizon line keeps track of the horizontal level. Exploring artistic potentials of somewhat non-descript ephemeral materials, I shift out of normal 'contexts of use' as I endeavour to slide into a glassmaker's aesthetics, sensibilities and understandings outside of the (glass art) material genre to find meanings and intent within different materials relevant to my practice as an installation artist.
Preciousness of Process
As a commission based installation artist, I see my concepts and aesthetics morph into the desires of others. The end results must be compatible to client requirements and context, yet the ephemeral process of thinking, researching and making might be overlooked or lost – yet they are the foundations of success. Within this exhibition - I offered pointers to acknowledge my personal practice as an artist and maker - within these larger installation projects. The details of designing and mock-up making essential moments of making. The outcomes of a project might be fixed and defined, yet it is the fluid and flowing moments of creativity found within the ephemeral moments of mock-up making rarely seen or known.
Bringing these moments into the present I re-focus on a moment, the moment – and linger to allow a moment to develop and take a tangent to find form outside of the client's deadline and project brief.
Matters of Water
Existing for a moment, the artworks are site specific, created during a short residency and dissolved at the conclusion of the exhibition. Like water, moisture, rain, clouds - the ideas and notions addressed in this body of work will naturally re-emerge somewhere else, as something else, at some time later.
The disintegration of an installation - as a contribution to the next precipitation.